On/Off Test Update: Manual Zone Entry
Thank you for using the Affiliated Portal! We've recently made updates to improve your experience that we would like to share with you.
Improvements
Manually Enter Test Zones

Users now have the ability to manually enter zones to put on test, which are not on the existing zone list.
If you need to put a zone or signal on test that is not included in your system's zones list, you have the option to manually enter one by clicking the "Manually enter zones" checkbox.


After clicking this, you will be prompted to enter a comma-separated list of zones or signals to put on test.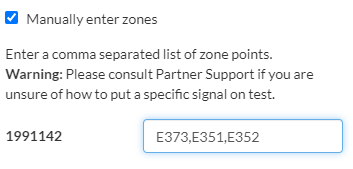 If you are unsure of how to use this feature properly and safely, we recommend contacting Partner Support for guidance.
---
Affiliated's software development team is the largest in our industry, and we love making our tools better to help you run your businesses better.
If you have any questions or suggestions, please reach out to Account Management at 800‑434‑4000 x 3810 or by email.
Thank you for partnering with us!
– Affiliated Account Management